A picture book with a cause
The Rumbling Adventure of Hare
Every year, 300,000 children go missing in Europe. To reduce this staggering number, it is important to teach children at a young age the skills and knowledge they need to stay safe. In short, The Rumbling Adventure of Hare is not only an exciting and beautiful picture book, but also a valuable addition to your child's education.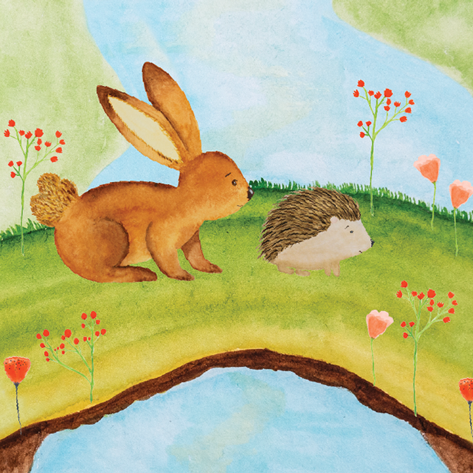 About friendship, courage, and following your intuition.
ABOUT THE RUMBLING ADVENTURE OF HARE
In The Rumbling Adventure of Hare, Hare and his friend Hedgehog go on an adventure in the forest, searching for a strange sound that only Hare can hear. Along the way, they meet new friends and find themselves in exciting situations. Will Hare and Hedgehog be able to unravel the mystery of the odd sound? A picture book about friendship, courage, and following your intuition.
Important rules of thumb
FOR THE STORYTELLERS
With The Rumbling Adventure of Hare, children are provided with important rules of thumb in a playful and positive way. These rules of thumb are based on five tips from experts in the field of missing children:
Always trust your own instincts. If it doesn't feel right, don't do it.
Never go somewhere alone. It's safer to go together.
Don't go with someone you don't know or don't expect.
Ask other parents for help if you get lost.
Learn to take note of landmarks. This makes it easier to find your way back.
Available in 20 languages
Download The Rumbling Adventure of Hare in your language
We need your support
JOIN OUR MISSION: #ZEROMISSINGKIDS
Every day, children across Europe go missing, leaving a lasting impact on their lives. We're committed to making a difference by enhancing the search for missing children, empowering them, and raising awareness about the issues causing their disappearance.
But we cannot do it alone. With your help, we can make a significant impact on the number of missing children cases. Your support enables us to continue our mission and create a safer world for every child.
Join us in making #ZeroMissingKids a reality. Your contribution, big or small, will change lives. Let's create a brighter future for our children, together.